Yes, this is becoming my own Tower of Babel, but, as promised, I will be showing an impression of the second state (about two thirds!) of my ongoing project, Obeliscolychny, with the Bay Printmakers during the first weekend of San Francisco Open Studios at Ft. Mason (see details above). Also featured will be Tempestuous Muse, first place winner in last year's Open Studios exhibit. And, in a further example of shameless self-promotion, don't miss the blurbette on me in the 2012 Open Studios guide (heavily edited to protect the public). In addition to the usual display of the perennial favorites in glorious black and white, at least some of the texts which caused my current project to come into being will be available for examination, and for those who must insist I will, of course, be on hand to attempt some sort of rationalization as to what connection there could possibly be between these recondite excerpts and the images that supposedly resulted from their discovery. Looking forward to seeing you there.
"…Ho, ho, I see land! I can see harbor! I can see a great crowd on the pier. I can see fire on the obeliscolychny. "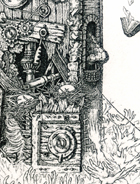 In addition to Open Studios, here is a list of current and upcoming shows in which my work will be included.
2012 Harnett Biennial of American Prints; 10/23 to12/9/2012, Joel and Lila Harnett Museum of Art, Richmond, VA.
New Prints 2012/Autumn; International Print Center New York, New York
Culture: Man, Machine and Nature; 10/3 to 11/16/2012, Sisson Gallery, Dearborn, MI.
Inclusions, Art from within Bernal Heights; 9/22 to 10/21, Inclusions Gallery, San      Francisco, CA.